We machine, hard-surface, grind and polish to precision tolerances in injection screws manufacturing. Special hard-surfacing alloys are made with Nickel, Tungsten-Carbide and Molybdenum.
In injection molding machines, the plasticizing unit: the screw and cylinder turns solid resin into uniform melt. In the plasticizing process, the most important elements include selecting materials suitable for various plastic resins, mechanical design, and injection molding parameters (melt temperature, metering, speedtime, back pressure, holding pressure, etc.).
Components of Plasticizing Unit:
Barrels, Screws, Screw Tip Valves, Screw Tip Assemblies, Check Ring, Rear Seat, End of Barrel, Barrel End Cap Adapters, Nozzle Bodies and Nozzle Tips, Nozzles
Screw Design:
Screw design must focus on mixing, pumping, melting and conveying tasks. Injection screws must be designed in accordance with the properties of the polymer to realize the best-level kneading and plasticizing performance. Application specific elements that affect output include:
• Screw total length • Feed zone • Transition zone • Metering zone • Channel depth• Helix angle • Flight clearance • Flight width • Pitch/Lead (spacing) • Screw O.D. /Barrel size • Nozzle & tip design • Flight length • Material to be processed • Volumetric feeding • Continuous feeding• Steel and Finishes • Wear and durability • Temperatures control
We meet and exceed our customers expectations by offering:
Carefully engineered screw geometry to match the exact needs of your process.
Reduced cycle times and longer machine life.
Pairing of base materials and surface treatments to maximize screw life.
Screw recovery solutions for high performance and multiple applications.
Quality inspections with every step of the process to create customized parts specific to our customers demands.
Expertly manufactured parts that exceed OEM tolerances.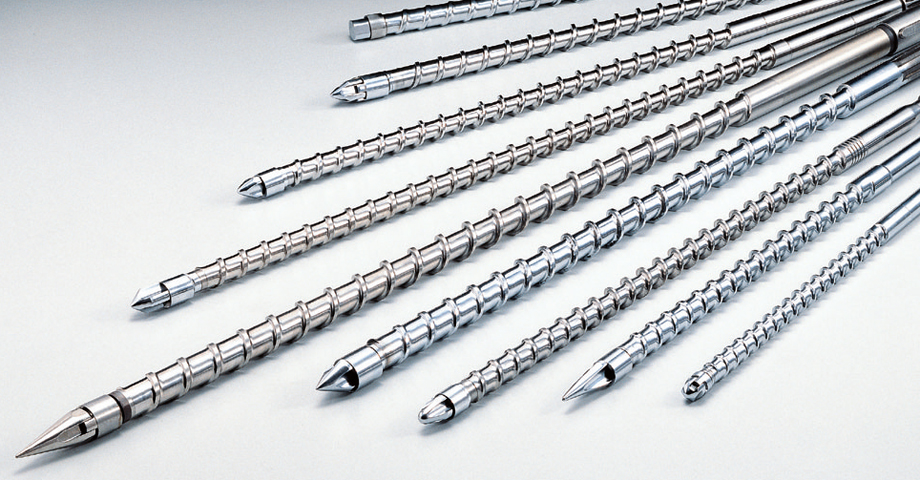 Applications:
1. General Plastics: ABS, AS, HDPE, LDPE, PA, PC, PET, PMMA, PO, PP, PS, PU, etc.
2. Engineering Plastics: PC Alloy(PC/ABS, PC/PBT and PC/PET), Glass Fiber filled Nylon PA/PA6/PA66(15-60%)
3. High Temperature Material: PEEK
4. Clear and Transparent Resin Injection: PC/PMMA
5. Elastomer and Silicone: Thermoplastic Elastomer (TPE) and Liquid Silicone Rubber (LSR)
6. Flexible PVC and Rigid PVC
7. Recycled Granules and Pellets
8. Thermoset
9. Powder Injection Molding(PIM), includes Metal Injection Molding(MIM) and Ceramic Injection Molding(CIM)
10. and so on.
Machine Makes:
• Bole, Borche, Chende, Chen Hsong, Haida, Haitai, Haitian, Haixing, LOG, Sound, Tederic, Welltec, Yizumi, Zhafir, etc.
• Fanuc, Hishiya Seiko, JSW, Kawaguchi, Meiki, Mitsubishi, Niigata, Nissei, Sodick, Sumitomo, Toshiba, Toyo, UBE
• Dong Shin, LS Mtron, Woojin Selex, Woojin Plaimm, etc.
• Arburg, Demag, Billion, BMB, Demag, Dr. Boy, Engel, HPM, Husky, Krauss Maffei, Milacron, Negri Bossi, Netstal, Romi, Sandretto, Stork, Sumitomo (SHI) Demag, Van Dorn, etc.
Keywords: Injection Screws, Screw Diameter, L/D Ratio, Injection Molding Feedscrews, Plasticating Components, Reciprocating Screws, Plasticizing Screws, Replacement Feedscrews, Replacement Plasticizing Parts, Replacement Screws, Screw Tip Assemblies, Valves, Non-return Valves, Check Rings, Sliding Rings, Nozzles, Barrel End Cap Adpaters, Barrels, Cylinders, Injection Molding Screws, Screws and Barrels, High quality feed screws, barrels and tip assemblies, Screws and Cylinders, Plastification Units, Plasticizing Unit, Injection Unit, Injection Molding Machines, Injection Molders, IMM Repair and Retrofitting, 2nd hand Injection Molding Machines, CPM10V, Haitian Injection Molding Machines, etc.
Keywords in Various Languages:
Roscas de Plastificação Para Injetoras, Conjunto Plastificador, Conjunto Plastificadores, roscas e cilindros para máquinas injetoras, extrusoras e sopradoras; husillos para la inyección, husillos bimetálicos, husillos nitruración, husillos nitrurados como bimetalicos, husillos y cámaras para diferente tipo de maquinaria de plástico (inyección, soplado y extrusión); Sneke i Cilindri, Mašine za Brizganje Plastike, układy plastyfikujące, ślimaki i cylindry, ślimaki azotowane, wzmocnione, chromowane, ślimaki i cylindry do wtryskarek i wytłaczarek; Hai̇ti̇an plasti̇k enjeksi̇yon maki̇nasi vi̇da kovan setleri̇